Olympic Safety Hack Squat Barbell
Product Code: B22
Status: Available!

PLEASE NOTE: Items that are 'AVAILABLE' and do not have the 'PRE-ORDER' banner attached, are in stock and can be pick up or delivered!
FOR PRE-ORDER PRODUCTS: If the product has the image, you can still place an order with us! Simply place an order with us and we will notify you with an ETA.
There's nothing easy about squatting with the Olympic Safety Hack Squat Barbell - it take your squats to the next level by combining the front and back squat. The Olympic Safety Hack Squat Barbell is the ultimate anterior chain training tool. Dramatically increasing the loading in areas stimulated by front squats while retaining the back squat power, this bar will make intense squat progressions achievable by increasing the maximum loading over that of the traditional back squat. The bar is especially useful to anybody suffering from arm/shoulder injuries or flexibility issues who have trouble using a straight barbell. The bar is supported with your hands in a neutral position with weight distributed via pads on your shoulders and neck. This is also useful to those who have issues with pressure on their neck when squatting with a traditional barbell.
Features:

Bar rating of 320kg (700lbs)
Barbell weight is 22.5 kg
Barbell dimensions are 220 cm long
Olympic grade for maximum lifting power
Chrome coating provides a durable maintenance free protective finish to the bar.
Dimensions: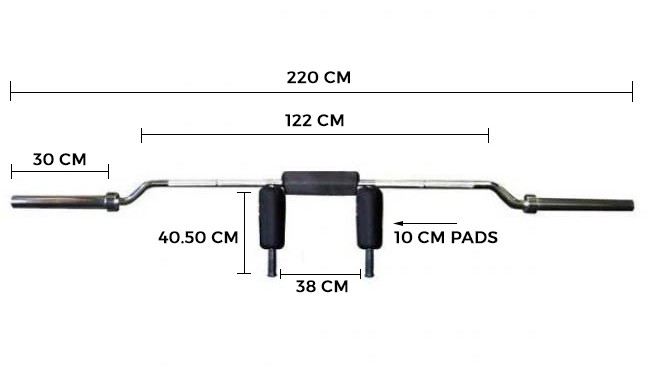 ---
---
Contact Us Today!
Want to get in touch with the leading gym and fitness equipment wholesaler? Want to have a chat about one of our gym products and fitness equipment? Then please get in touch with us by filling out the contact form below, or call us today!