Olympic Bumper Weight Plate Black Rubber
Product Code: 100527
Status: Available!

PLEASE NOTE: Items that are 'AVAILABLE' and do not have the 'PRE-ORDER' banner attached, are in stock and can be pick up or delivered!
FOR PRE-ORDER PRODUCTS: If the product has the image, you can still place an order with us! Simply place an order with us and we will notify you with an ETA.
Our Rubber Olympic Bumper Plates are of high performance and durability, but with Wholesale pricing. Our Olympic weight plates start with a rubber coating, and this ensures hardness, durability and mark resistance. To keep the cost down, we removed the coloured rubber and replaced the solid steel center insert with a smaller stainless steel one. The result is a slightly thicker plate (though not as thick as many of the others on the market) than an equivalent Bumper Plate as more rubber is required to compensate for the smaller insert.They perform like any good plate should and will endure daily abuse from all but the most demanding Commercial Gyms, CrossFit boxes and Weightlifting Centres. Ideal for those launching a PT Studio or CrossFit box on a budget and for the home enthusiast.

These quality, budget-priced plates have the consistent dead bounce, durability, and distinctive smooth finish athletes have come to expect from weight plates. Each Olympic weight plate and bumper is an IWF standard 450 mm in diameter, but with a thinner width than most comparable plates on the market, enabling more weight to be loaded on the bar.

The revised artwork on the Bumpers maintains the original old-school look, with our partner Panatta's logo printed proudly and kilogram measurements extremely visible.
---
Size Chart
50 mm stainless steel inner ring.
Made from durable rubber.
Drop tested.
Finished with our Panatta branding.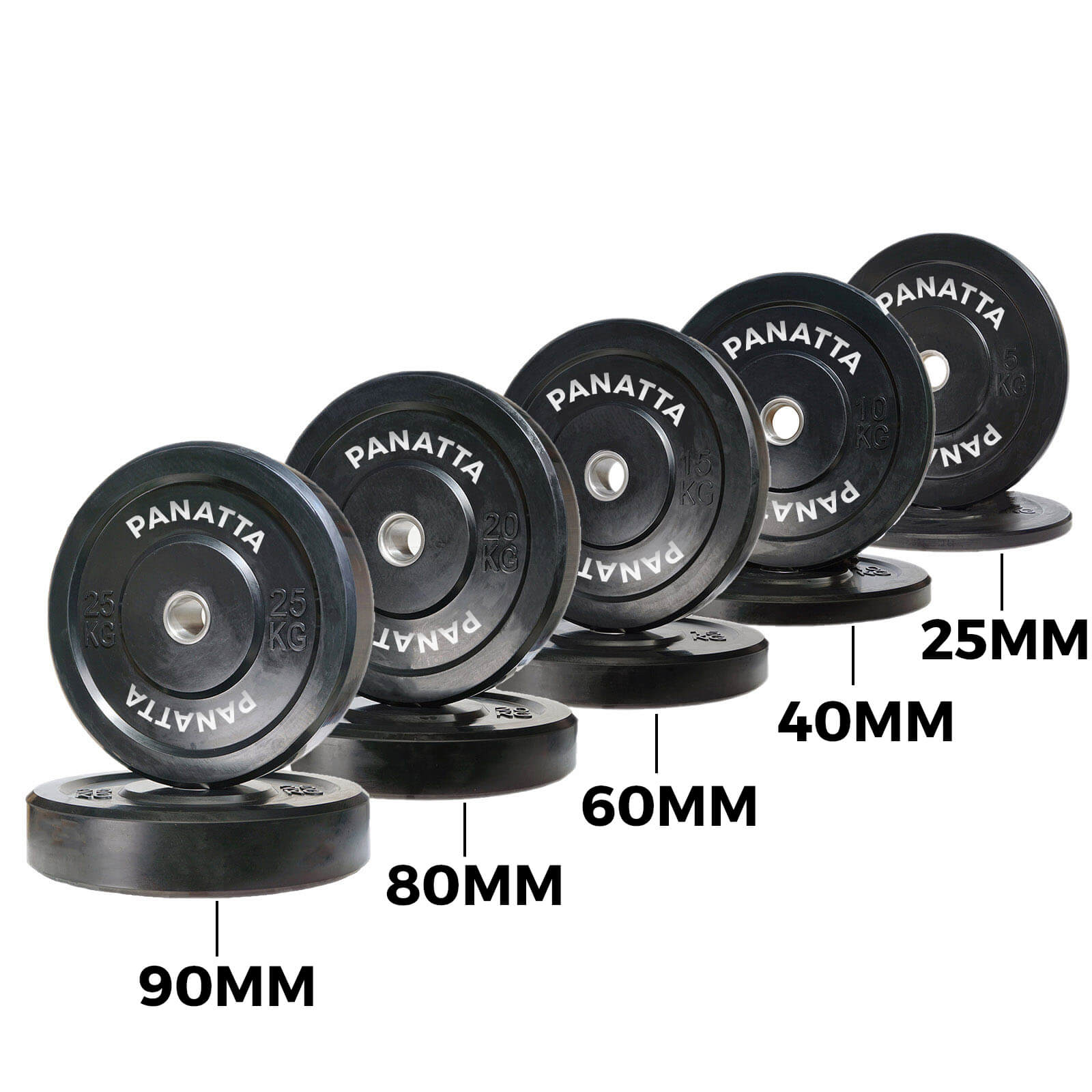 Please note: These plates are solid rubber. The 5kg and 10kg are naturally thinner than the rest. It is not advised to throw the barbell from the top of an Olympic lift. The 5kg and 10kg bumper plates are not designed for slamming down like the higher weight plates are.
---
100% Olympic Bumper Weight Plate Black Rubber with stainless steel ring. IWF approved and drop tested!
Weight Options:
Olympic Bumper Weight Plate 5 kg
Olympic Bumper Weight Plate 10 kg
Olympic Bumper Weight Plate 15 kg
Olympic Bumper Weight Plate 20 kg
Olympic Bumper Weight Plate 25 kg
All weight plates are sold individually, not in pairs.
---
---
Contact Us Today!
Want to get in touch with the leading gym and fitness equipment wholesaler? Want to have a chat about one of our gym products and fitness equipment? Then please get in touch with us by filling out the contact form below, or call us today!