Seated Calf Raise
Product Code: 1HP588
Status: Available!

PLEASE NOTE: Items that are 'AVAILABLE' and do not have the 'PRE-ORDER' banner attached, are in stock and can be pick up or delivered!
FOR PRE-ORDER PRODUCTS: If the product has the image, you can still place an order with us! Simply place an order with us and we will notify you with an ETA.
The Seated Calf Raise is an excellent machine for any gym and is quickly becoming a must-have! The seated calf raise is an exercise targeting the calf muscles of the lower leg. It is usually performed for moderate to high reps, such as 8-12 reps per set, and occasionally for very high burnout focused sets of 50-100 total reps.
Primary muscles targeted are your calf muscles.
Main Features
Illustrative chart with QR code linked to technical video
Technical Information
Padded knee support with gas assisted height adjustment
Large central support handle
Optional: Tibial Kit
Muscles Targeted: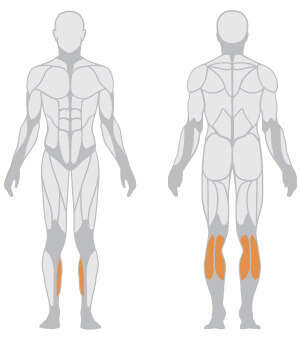 Specifications
Length
115 cm
Width
140 cm
Height
100 cm
Machine Weight
75 kg
Maximum Weight Load
135 kg
---

---
Contact Us Today!
Want to get in touch with the leading gym and fitness equipment wholesaler? Want to have a chat about one of our gym products and fitness equipment? Then please get in touch with us by filling out the contact form below, or call us today!