Max Rack LD400
Product Code: LD400
Status: Contact us for availability

PLEASE NOTE: Items that are 'AVAILABLE' and do not have the 'PRE-ORDER' banner attached, are in stock and can be pick up or delivered!
FOR PRE-ORDER PRODUCTS: If the product has the image, you can still place an order with us! Simply place an order with us and we will notify you with an ETA.
Achieve the sensation of free weight training with a bar but with the safety of a Smith or Multi-power machine, thanks to the Max Rack LD400. Its three-dimensional but fully guided movement system will optimism your training area as it makes it possible to do 20 different exercises in less than a 3 m space! The bar enables you to make three-dimensional movements in any direction in a fully controlled and safe way, thanks to its vertical and horizontal guides. Designed for optimum exercise bio-mechanics. Guarantee smooth, natural movements for full muscle concentration.
Multiple racks on the front and rear for supporting the bar.
Safety stop at the base, which prevents the bar from falling on the foot, thus providing maximum safety.
Reinforced frame, for more security and protection.
Grips on top, which allow the users to make chin-ups.
It has tempered bars with linear bearings for discs with a diameter of 28 mm and 50 mm Olympic discs.
4 mm thick ST-37 / 40 steel frame. High durability.
Round edges with elliptical section in order to avoid cuts and knocks
It guarantees smooth, natural movements for full muscle concentration.
Use of laser cutting technology for optimum tube cutting precision.
Structure raised 50mm above floor level with rubber tipped feet. This provides access for cleaning and vacuuming without scratching the paint.
---
Main Features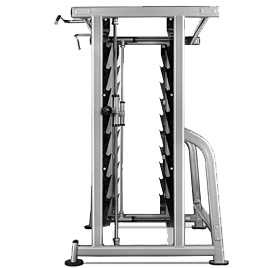 9 Training Heights
The CAM weight system delivers the desired resistance curve through the entire range of motion during your workout. This means that the machine actually works with you to ensure the correct form is used and the right muscles are activated!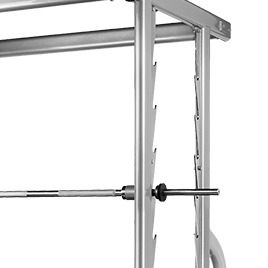 Compatible for 50mm Weight Plates
Train with 50mm Olympic style weight plates.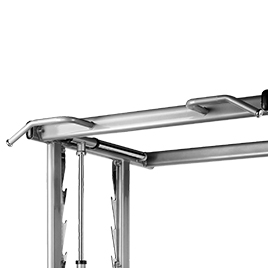 Pull Up Bar
Grips on the top part of the machine for pull-up exercises.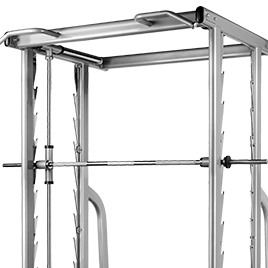 Vertical and Horizontal Guides
The Max Rack's bar allows a three-dimensional motion in any direction. The movement is always controlled and safe, due to its vertical and horizontal guides.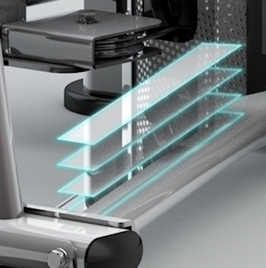 Anti-Corrosion Painting Treatment
3-layer coating comprised of initial anti-corrosion primer for guaranteed durability, followed by an epoxy powder layer and finished with lacquer or varnish.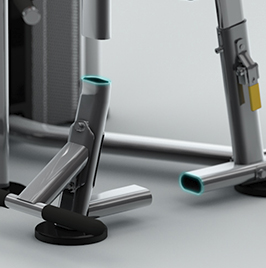 4 mm Thick Structure
4 mm thick ST-37 / 40 steel frame for guaranteed durability and high resistance 5 mm thick coated steel cable for a smooth, secure performance.
Specifications
Length
200 cm
Width
140 cm
Height
216 cm
Machine Weight
199 kg
---
---
Contact Us Today!
Want to get in touch with the leading gym and fitness equipment wholesaler? Want to have a chat about one of our gym products and fitness equipment? Then please get in touch with us by filling out the contact form below, or call us today!