Professional Treadmill SK7990
Product Code: SK7990
Status: Available!

PLEASE NOTE: Items that are 'AVAILABLE' and do not have the 'PRE-ORDER' banner attached, are in stock and can be pick up or delivered!
FOR PRE-ORDER PRODUCTS: If the product has the image, you can still place an order with us! Simply place an order with us and we will notify you with an ETA.
The SK7990 is the second fastest treadmill on the market that don't need any lubrication thanks to its HST phenolic resin system. Stable surface structure without a floor or wall anchors. Aluminum and sturdy oval section steel tube ST52. The aluminum side sections and non-slip rubber footrests give safety and comfort.
---
---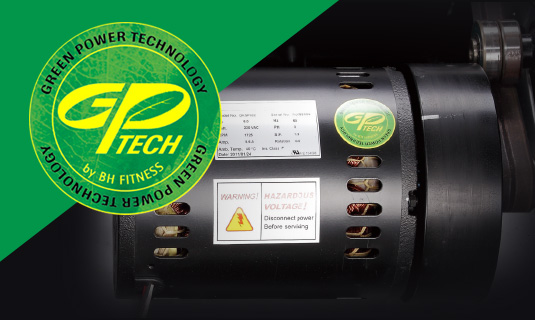 6 HP MOTOR TOP SPEED OF 26 KM/H
POWERFUL MOTOR
New 6 HP motor with a more compact design, able to reach a top speed of 26 km/h.
A more powerful and reliable 6.0 HP motor with Green Power technology, that minimizes energy requirement and improves engine efficiency.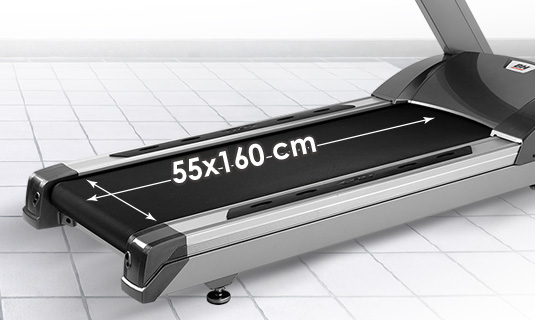 WIDE RUNNING SURFACE
Comfort while running is ensured with a large running surface of 55 X 160 cm and phenolic resin plate to avoid maintenance expenses.

Suitable for all types of running strides.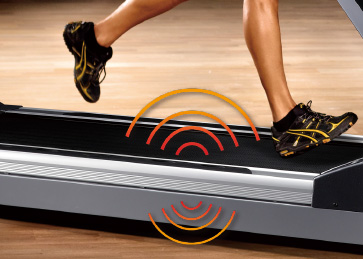 PRO-TRONIC ABSORBER SYSTEM
Absorb system with 10 support points. Pro-Tronic Technology is designed for maximum back and joint protection.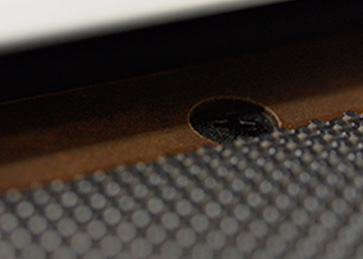 HST PHENOLIC RESIN TABLE FOR ZERO MAINTENANCE
Thanks to the latest generation phenolic resin used in the SK7990, the need to carry out periodical maintenance on the machine practically disappears.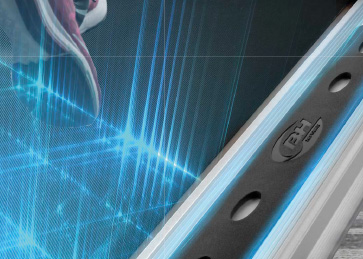 ALUMINUM STURDY SIDE SECTIONS + NON-SLIP RUBBER FOOTRESTS
The ultra over-sized aluminum side sections totally protect the running desk and running board. Such an enhanced design prevents the component from rust and provides maximum strength and reliability with European elegance.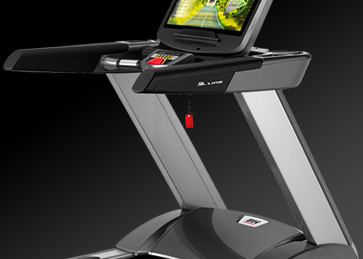 OVER-SIZED STAND TUBE DESIGN
The superb and strong frame applied with steel tube ST52. Its high level commercial steel frame design provides enduring and comfortable solutions for every user, and it improves the durability and weight loaded of treadmill.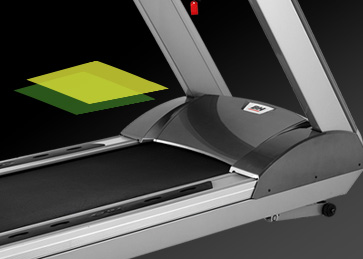 TWO LAYER PAINTING TECHNOLOGY
BH Fitness applies the automotive painting technology to finish the surface of BH treadmill. SK Line treadmill uses electrophoretic deposition to apply the primer paint directly to the metal and finishing techniques on the overcoat. Rusting is eliminated, durable finish for high gloss and resistance to chipping.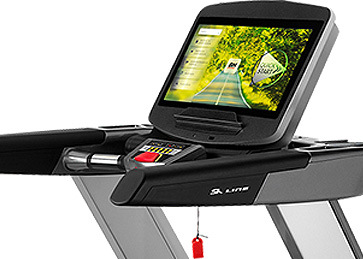 LATERAL PROFILES
The treadmills long and robust arms increase safety while training.
The user is more protected and can grip the arms from any distance on the treadmill.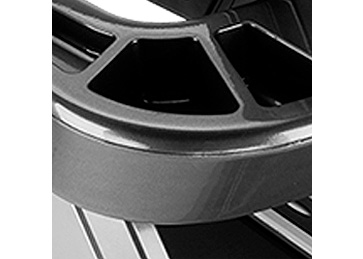 OBJECT-HOLDER
The treadmill has different pockets and supports the user can keep towels, mobile devices or bottles to hand during the time of the session.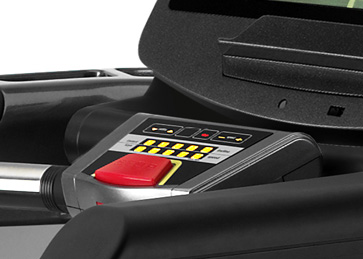 EASY TOUCH PAD TOOLBAR FOR QUICK ACCESS
Instant access built into the front handrail this includes; pulse rate contact sensors, one-finger speed and incline buttons, and emergency stop.
---
CONSOLE OPTIONS
| | | | |
| --- | --- | --- | --- |
| Type of monitor | 19" SmartFocus TV Console | 12" SmartFocus TV Console | 7" LED Dot-Matrix Console |
| Data readout | Time, Distance, Calories, BPM, Pace, Incline, Speed | Time, Distance, Calories, BPM, Pace, Incline, Speed | Time, Speed, Distance, Calories, Pulse, Incline |
| Headphones jack / MP3 Connection / Speakers | Yes | Yes | No |
| Power charging | Yes | Yes | Yes |
| Programs | 1 Manual, 15 Training Courses, Objective, 4 HRC (65% / 75% / 85% / THR), 13 Virtual Active, 3 Media (TV, Internet, Music), 7 Physical Tests | 1 Manual, 15 Training Courses, Objective, 4 HRC (65% / 75% / 85% / THR), 13 Virtual Active, 3 Media (TV, Internet, Music), 7 Physical Tests | 1 Manual, 8 Preset Progroms, HRC, User's Profile, 1 Fitness Test |
| Additional Console Details | Learn More › | Learn More › | Learn More › |
Specifications
Length
233 cm
Width
94.5 cm
Height
140 cm
Motor
6.0 HP
Tilt
0 - 16%
Speed
0.8 - 26 km/h
Machine Weight
200 kg
Maximum User Weight
220 kg
---

---
Contact Us Today!
Want to get in touch with the leading gym and fitness equipment wholesaler? Want to have a chat about one of our gym products and fitness equipment? Then please get in touch with us by filling out the contact form below, or call us today!