Recumbent Bike - Ultra Pro Series H777
Product Code: H777
Status: Available!

PLEASE NOTE: Items that are 'AVAILABLE' and do not have the 'PRE-ORDER' banner attached, are in stock and can be pick up or delivered!
FOR PRE-ORDER PRODUCTS: If the product has the image, you can still place an order with us! Simply place an order with us and we will notify you with an ETA.
The Ultra Pro Series Recumbent Bike features the 5.7" Blue Backlit LCD console and has simple seat adjustment, allowing the user to change the position of the seat with one hand, either on or off the bike. This bike is a cost-effective option for a broad range of environments such as corporate gyms, apartment complexes and hotels.
The Ultra-Pro Series Recumbent Bike H777 is an excellent combination of comfort and durability, with the quality to support home and commercial use. The R5i lets you power through your workouts in complete comfort with a self-powered generator system, resistance control, multiple positions handlebars, over-sized reclining seat and extra lumbar support. The seat also includes full armrests with integrated heart rate sensors, so you can monitor your heart rate constantly throughout your workout without needing to move your hands or wear a chest strap.
Plus, this self-generating exercise bike produces its own power, making it both green and convenient, so you can easily move the bike around without concerns of wiring or locating it near a power outlet. Pick up this Recumbent Bike today, and explore our other bikes online now.
---
---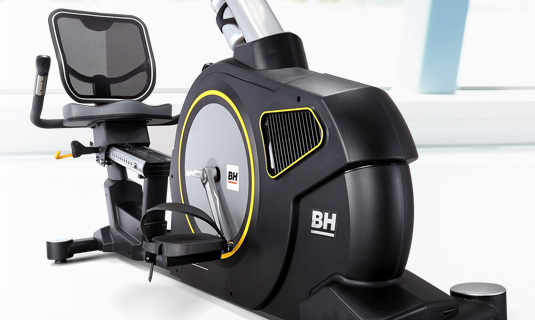 Self-powered generator system
With self-powered generator system, Ultra Pro Series can easily start the screen display only if RPM is higher than 25. It minimizes your electricity costs efficiently.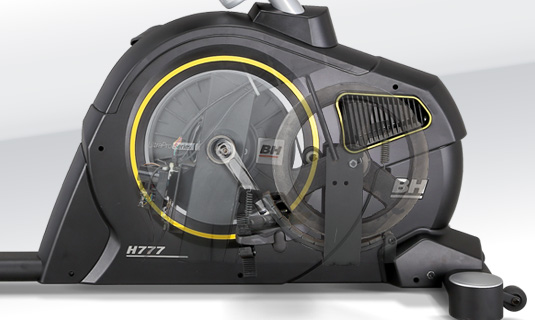 Electromagnetic resistance control
Maximum reliability and precision and no need for electric maintain.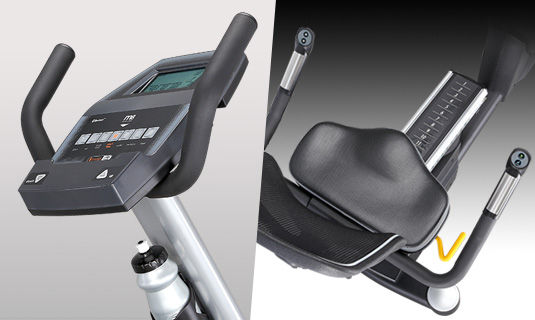 Double multi-position handlebars
Equipped with front and side two handlebars, the anti-slip rubbers materials highly ensure the safety and duration while pedaling.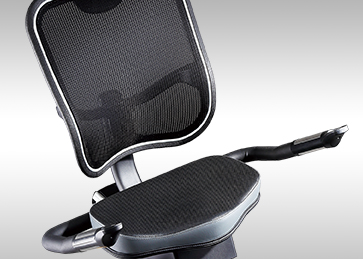 Oversized reclining seat
The oversized 3D reclining seat with ventilated mesh fabric effectively supports your waist and bottom, bringing the most comfortable fitness experience.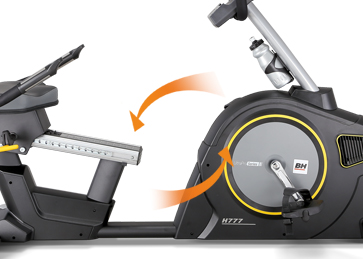 Easy entry design
Thanks to the opened frame design, the Ultra Pro Series Recumbent Bike H777 provides users an easy entry and exit space.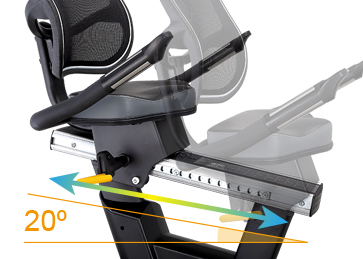 The best angle for pedaling
At an angle of 20°, the seat allows users to stretch forward easily with the best fitness efficiency.
Smooth fit control
The widened-design of the fast-setting slide allows a smooth and stable 12 levels custom fit for all users.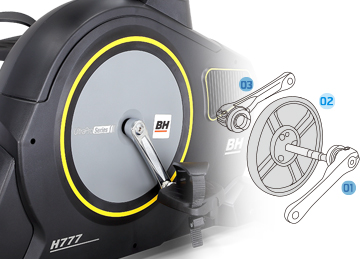 3 pieces reinforced cranks
Combined with heavy duty bearings, the 3-pieces reinforced crank can prevent injuries or caused by the metal fatigue.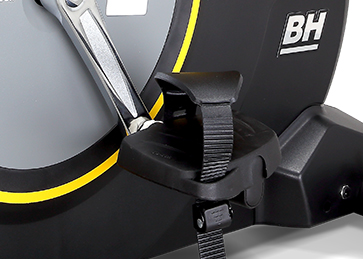 Enlarged adjustable pedal
The enlarged pedals with adjustable foot straps allow users to fasten their feet and adopt the right cycling position.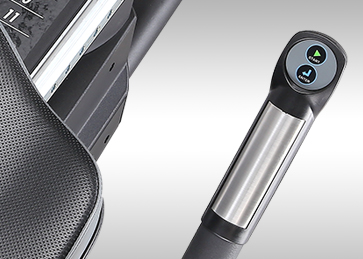 Contact pulse measurement
The system allows users to monitor the heart rate while exercising and also provides targets for advance training.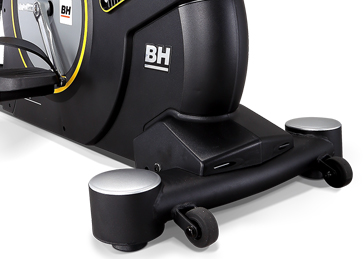 Specifications
Length
120 cm
Width
68 cm
Height
146.5 cm
Drive System
Poly-V Belt
Power
330 W
Intensity Levels
24 Levels
Monitor
5.7&amp
Programs
1 Manual, 12 Preset Programs, 4 HRC (55% / 75% / 90% / THR), 5 User's Profiles, 1 Random, 1 Watts, 1 Fitness Test, 1 Personal
Machine Weight
61.5 kg
Maximum User Weight
160 kg
---

---
Contact Us Today!
Want to get in touch with the leading gym and fitness equipment wholesaler? Want to have a chat about one of our gym products and fitness equipment? Then please get in touch with us by filling out the contact form below, or call us today!