Chin Up and Dip Station
Product Code: 1SC211
Status: Contact us for availability

PLEASE NOTE: Items that are 'AVAILABLE' and do not have the 'PRE-ORDER' banner attached, are in stock and can be pick up or delivered!
FOR PRE-ORDER PRODUCTS: If the product has the image, you can still place an order with us! Simply place an order with us and we will notify you with an ETA.
Headrest and double padded support for the forearm provide an easier support and tight fixing points for the arms and back during the exercise ensuring the correct position at all times. Multi-position grips allow the realization of two different exercises: dips and abdominal crunches.
Anatomical back support pad. This pad is shaped with the same angle of the back, to keep it fully supported during the exercise.
Grips on top, which allow the users to make chin-ups.
Nonslip footrest supports prevents foot from sliding, thus preventing possible injuries.
Three layer coating. The design of this professional, up-to-date, stylish system is enhanced still further by its -layer coating comprising an initial anti-corrosion primer, for guaranteed durability, followed by an epoxy powder layer.
Injected core seat. Unlike the classic foam padded particle boards, the injected core offers the advantage of uniformity, anti-distortion and greater anti-bacterial protection.
Structure raised 50 mm above floor level with rubber tipped feet. This provides access for cleaning and vacuuming without scratching the paint.
4 mm thick ST-37 / 40 steel frame for guaranteed durability.
Tubes with rounded elliptical section, that prevent cuts and blows.

Muscles Targeted: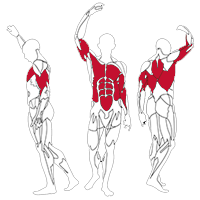 ---
---
Contact Us Today!
Want to get in touch with the leading gym and fitness equipment wholesaler? Want to have a chat about one of our gym products and fitness equipment? Then please get in touch with us by filling out the contact form below, or call us today!