Duke Magnetic Spin Bike H925
Product Code: H925
Status: Available!

PLEASE NOTE: Items that are 'AVAILABLE' and do not have the 'PRE-ORDER' banner attached, are in stock and can be pick up or delivered!
FOR PRE-ORDER PRODUCTS: If the product has the image, you can still place an order with us! Simply place an order with us and we will notify you with an ETA.
The Duke Magnetic Bike H925 is one of the quietest and smoothest commercial spin bikes available in the gym and fitness industry today! It has been developed with the collaboration and feedback of trainers and athletes and decades of experience by BH Fitness. With top level design, superior quality and maximum durability, this is the spin bike to have in your home or gym space. With the Duke Magnetic Spin Bike HP925 being the ideal spin bike for indoor cycling, with magnetic brake system, 6 different levels, LCD monitor with back-light and so much more, this is the Spin Bike for you!
---
---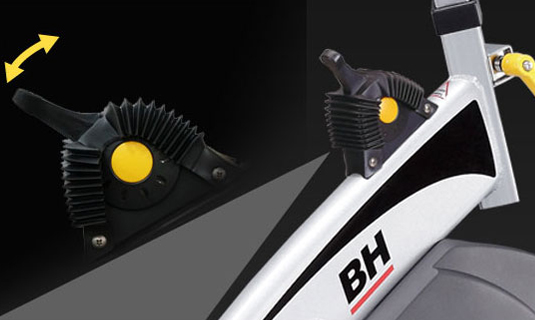 Magnetic resistance with 16-level selector
The Spin Bike H925 magnetic control system, resulting from Eddy current resistance, offers 16 precise resistance selector levels which provide the same effects as 20 kg iron-made flywheel. Friction-less resistance improves durability while providing an ultra-quiet and ultra-smooth workout experience.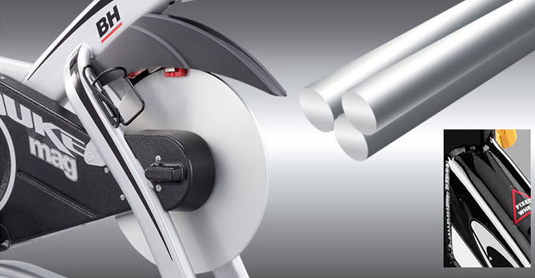 Anti-corrosion materials
Oversize frame made by high-performance steel ensures the durability and strength while exercising. Also, the head-tube, seat-tube and front tube are all made by stainless steel that could prevent tube and stem from corrosion. It also applies computer pulse tig welding for more smooth surfaces.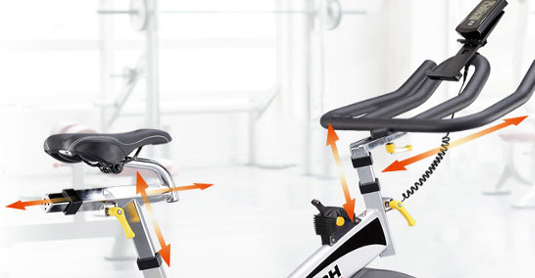 Millimetric adjustments for handlebar and seat
Except for the best geometry of the structure, the millimetric regulation of the saddle and handlebar allow all users to truly find the most comfortable position.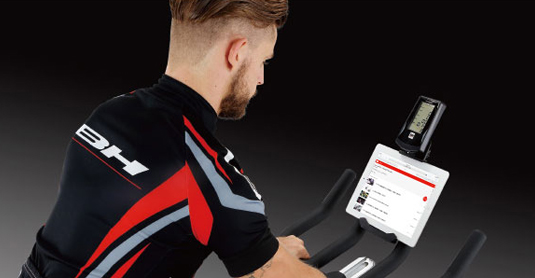 New upgraded console
Combined with the console, the holder for portable devices allows cyclists to train with the exact security of your devices. The size of the holder can be adjusted to fit all types of smart phones and tablets.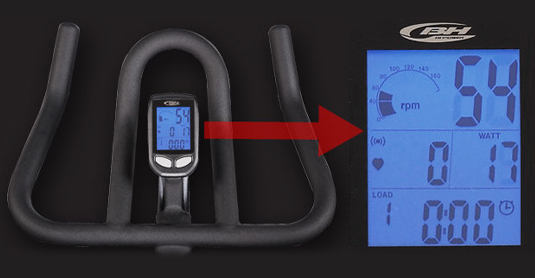 Blue back-lit cycling computer
The cycling computer especially designed for the H925 spin bike applies the latest self-generated power system. The blue back-lit and easy-read numbers help users to track the needed information. Polar wireless HR is also compatible.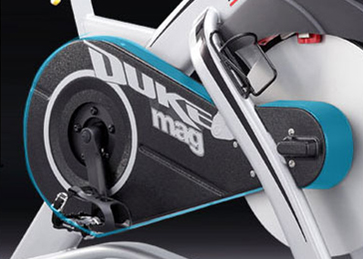 Durable grooved V-belt direct drive system
6 PK V-belt drive system assures performance that is very smooth and quiet. Users don't have to maintain or oil the transmission system.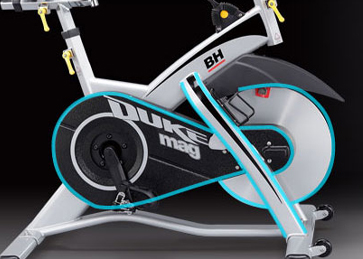 Precision inertia flywheel design
BH Fitness applies Align-Precision technology to align both fork-ends, flywheel, frame to be equally far from the center-line. It provides perfect balance that makes users to track properly even with high speed rotation.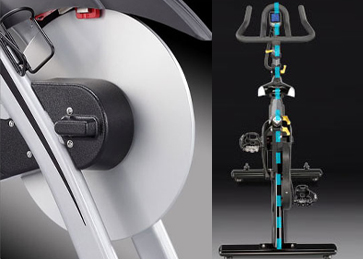 Aluminum made flywheel
The flywheel of Spin Bike H925 is made by aluminum and CNC machined. This process gives it most accurate dimensions and the best possible finish. Of course, the aluminum flywheel is corrosion-proof and needs less maintenance.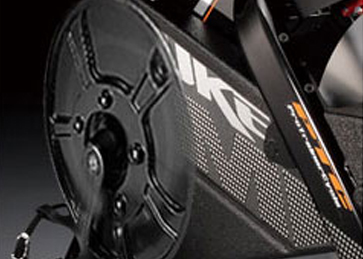 Ultra strong BB and axles
The rigid bottom bracket features well thermal protection and high reliability, and ensures greater torsion stiffness and cycling efficiency.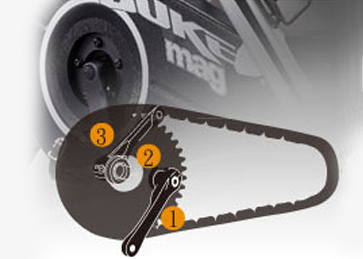 Three-piece crank set
The same mechanism with outdoor bike combining with heavy duty bearings allows the cycling movement smoothly.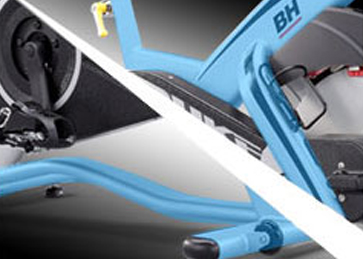 High performance frame geometry
With the application of engineering geometry of BH Fitness spin bike technology, this frame is more stable and allows fast, easy access to all seat, handlebar and height adjustments.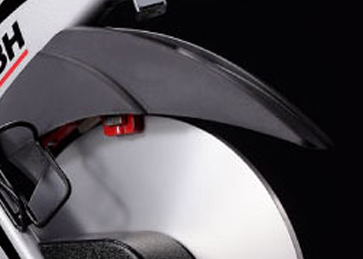 Anti-sweat structure
The Duke spin bike H925 is equipped with sheathing which covers on top and both sides of flywheel and magnetic control system, and effectively provides protection from sweat.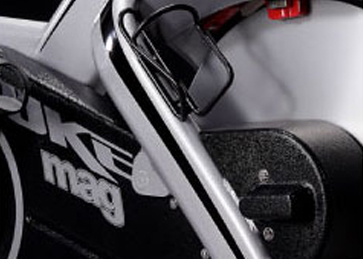 Multi-layer painting
The same mechanism with outdoor bike combining with heavy duty bearings allows the cycling movement smoothly.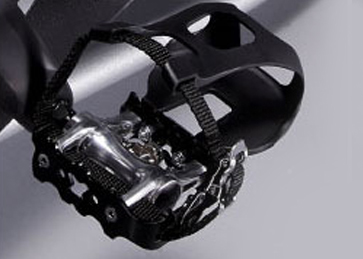 Dual SPD-trekking pedals
Dual sided SPD compatible pedals allow workout with cycling shoes for heavy duty training or sneakers for normal training.
Specifications
Length
104 cm
Width
63 cm
Height
117 cm
Flywheel
20 kg
Transmission
Poly-V Belt
Intensity Levels
16 Levels
Data Readout
Time, Speed / RPM, Distance, ODO, Calories, Pulse, Watts
Machine Weight
43 kg
---
---
Contact Us Today!
Want to get in touch with the leading gym and fitness equipment wholesaler? Want to have a chat about one of our gym products and fitness equipment? Then please get in touch with us by filling out the contact form below, or call us today!