Alternate Bicep Curling Machine
Product Code: 1FE056
Status: Available!

PLEASE NOTE: Items that are 'AVAILABLE' and do not have the 'PRE-ORDER' banner attached, are in stock and can be pick up or delivered!
FOR PRE-ORDER PRODUCTS: If the product has the image, you can still place an order with us! Simply place an order with us and we will notify you with an ETA.
The Alternate Arm Curl Machine, often referred to as the bicep curl machine or preacher curl machine, allows you to isolate your biceps muscles to build more mass and definition effectively. Our seated arm curl machine allows for single or dual training, meaning you can focus on one arms or both.
Primary muscles targeted are the biceps and forearm muscles.
Main Features
Machine for training the bicep muscles
Magnetic pin to select the load
Weight stack carter in transparent poly carbonate
Illustrative chart
Technical Information
Height adjustable seat
Rotating jointed grips with adaptive system
Independent levers: Unilateral or bilateral exercise
CAM to guarantee natural adaption of the load
Muscles Targeted: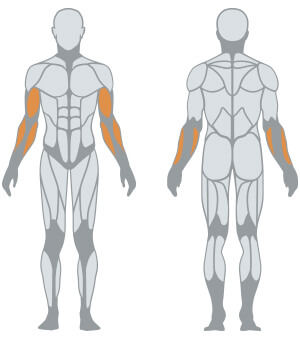 Specifications
Length
85 cm
Width
150 cm
Height
160 cm
Weight Stack
50 kg (80 kg Optional)
Machine Weight
180 kg
---
---
Contact Us Today!
Want to get in touch with the leading gym and fitness equipment wholesaler? Want to have a chat about one of our gym products and fitness equipment? Then please get in touch with us by filling out the contact form below, or call us today!