Magnetic Spin Bike H919N
Product Code: H919N
Status: Available!

PLEASE NOTE: Items that are 'AVAILABLE' and do not have the 'PRE-ORDER' banner attached, are in stock and can be pick up or delivered!
FOR PRE-ORDER PRODUCTS: If the product has the image, you can still place an order with us! Simply place an order with us and we will notify you with an ETA.
The Magnetic Spin Bike H919N as part of the SB Series, is the ideal indoor spin bike that every home gym and commercial space need. The spin bike is equipped with a magnetic brake system and experience has shown that this type of resistance regulation is practically maintenance-free - which is particularly good news for those looking for a device that does not mind extensive and intensive training sessions. This indoor spin bike comes into consideration for these users who use their indoor bike for more than 20 hours a week. Anyone looking for a device that meets semi-professional requirements, for example to prepare for a competition, should take a look at this bike.
The oversize steel frame guarantees the necessary stability and comes in a matt silver-black finish. The positions of the handlebars and saddle can be freely determined in the horizontal and vertical direction and fixed with turning screws, allowing for a comfortable workout. The comfortable saddle impresses with its anatomical shape, while the handlebars allow a variety of grip positions so that even longer training sessions are not uncomfortable. Since the SB3 Magnetic is equipped with combination pedals, you are free to choose whether you want to pedal with sports shoes or SPD cycling shoes. The energy is transferred with the tried and tested Poly-V belt, which, in combination with the magnetic brake, makes the bike really quiet. Those who do not live alone or have neighbors with sharp ears will be happy about this feature.
You can easily regulate the resistance with the rotary knob, which also serves as an emergency brake. The bottle holder is easily accessible, just below it!
A feature of the spin bike, with which the BH Fitness Bikes Duke Magnetic and Duke Electronic stand out, is the mudguard, which everyone knows from ordinary road bikes. While it protects the driver there from thrown up dirt, here it shields the flywheel from dripping sweat or spilled drinking liquid - a simple addition with a great effect. The indoor magnetic spin bike can be moved back and forth without any problems, as transport wheels are attached to the front feet. Additionally, the spin bike comes with an included bike computer. On the clear display, it shows the revolutions per minute, the time driven and the speed during your training. You can also read off the calorie consumption and the distance covered. If you also want to keep an eye on your pulse rate, simply use a chest strap. The bike computer of the SB3 is POLAR compatible.
The SB3 Magnetic Spin Bike H919N offers a pleasing all-round package with which the discerning home user is sure to have fun. The robust construction in an appealing design round off the good impression convincingly.
---
18 kg High Rotational Inertia Flywheel
The flywheel of the spin bike H919N is made by aluminum and CNC machined. This process gives it most accurate dimensions and the best proportion. With the highly rotational inertia of the flywheel, the magnetic indoor spin bike can offer an intensive training to fit all the needs for you home gym or commercial gym.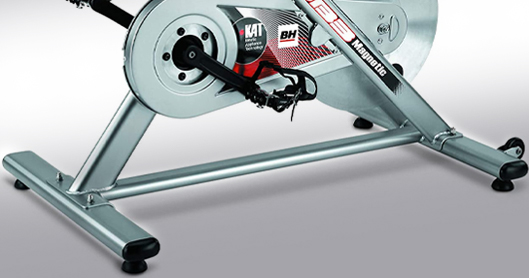 Magnetic Control System
By varying the distance between 18kg flywheel and two powerful magnets, resulting from eddy current, you can adjust 16 resistances by the magnetic control system of the spin bike. It provides an ultra-quiet and smooth workout experience.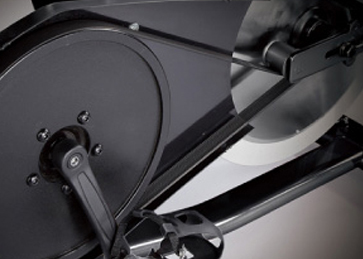 Durable Grooved V-Belt Direct Drive System
Our spin bike H919N features a 6 PK Poly-V belt drive with an incredibly smooth and silent motion. Users don't have to maintain or oil the transmission system - 100% maintenance free!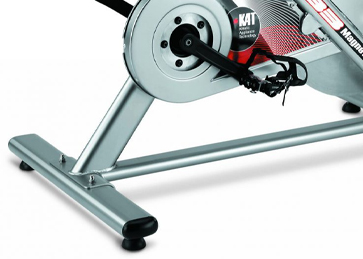 Anti-Sweat Structure with Transportation Wheels
The spin bike is equipped with sheathing which covers on top of flywheel and magnetic control system. The cover protection can block sweat away and enhance the durability, and storage is easy with the transportation wheels.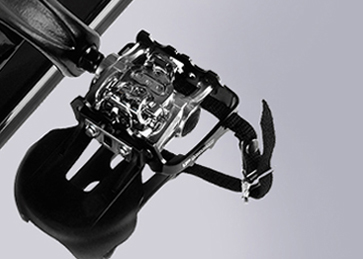 Ultra Strong BB and Axles
The rigid bottom bracket features well thermal protection and high reliability, and ensures greater torsion stiffness and cycling efficiency.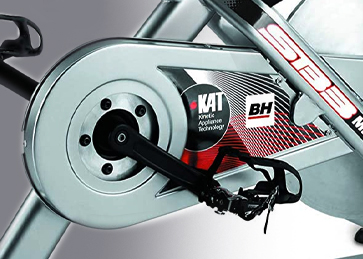 Commercial Grade 3 Crank System
Totally new commercial-grade crank set design, combined with heavy duty bearings allows the cycling move smoothly and enhances the durability.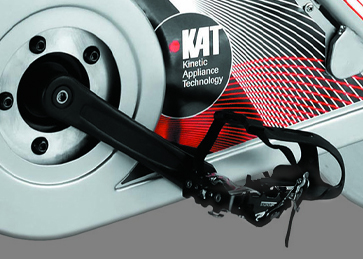 Dual SPD Trekking Pedals
Dual sided SPD compatible pedals allow workout with cycling shoes for heavy duty training or sneakers for normal training.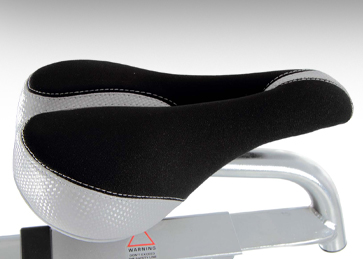 Adjustable Seat and Ergonomic Handlebars
Anatomically designed adjustable seat to adaptable to any user, equipped with both horizontal and vertical adjustments. Ergonomic triathlon handlebar for maximum comfort and over-sized for multiple grip positions.
Specifications
Length
104 cm
Width
64 cm
Height
119 cm
Flywheel
18 kg
Drive System
Poly-V Belt System
Resistance System
Magnetic Control System
Monitor
3.5 Inch LCD
Data Readout
Time, Speed, Distance, Calories, Load, Watt, Pulse, RPM, Clock
Machine Weight
46 kg
Maximum User Weight
110 kg
---
---
Contact Us Today!
Want to get in touch with the leading gym and fitness equipment wholesaler? Want to have a chat about one of our gym products and fitness equipment? Then please get in touch with us by filling out the contact form below, or call us today!