Dorsy Bar
Product Code: 1HP505
Status: Available!

PLEASE NOTE: Items that are 'AVAILABLE' and do not have the 'PRE-ORDER' banner attached, are in stock and can be pick up or delivered!
FOR PRE-ORDER PRODUCTS: If the product has the image, you can still place an order with us! Simply place an order with us and we will notify you with an ETA.
The Dorsy Bar is like a T-Bar Row, targeting the lateral back muscles in a standing position. This machine works all the major back muscles – teres major, trapezius and erector spinae. The movement also works the shoulders and the pulling muscles in your arms — biceps, brachialis, and brachioradialis.
Primary muscles targeted are your biceps, lats, traps and upper back overall. Secondary muscles activiated are your forearm muscles.
Main Features
Super grip footrest (Optional)
Technical Information
Multiple grips
Large platform inclined to 9 degrees
Muscles Targeted: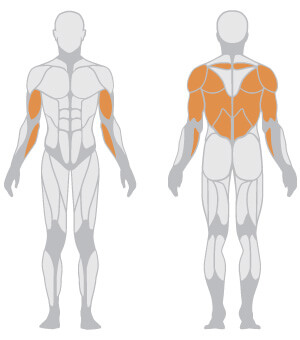 Specifications
Length
185 cm
Width
115 cm
Height
55 cm
Machine Weight
110 kg
Maximum Weight Load
155 kg
---

---
Contact Us Today!
Want to get in touch with the leading gym and fitness equipment wholesaler? Want to have a chat about one of our gym products and fitness equipment? Then please get in touch with us by filling out the contact form below, or call us today!