Circular Row
Product Code: 1FE004
Status: Available!

PLEASE NOTE: Items that are 'AVAILABLE' and do not have the 'PRE-ORDER' banner attached, are in stock and can be pick up or delivered!
FOR PRE-ORDER PRODUCTS: If the product has the image, you can still place an order with us! Simply place an order with us and we will notify you with an ETA.
The Rowing Machine Circular, or seated row machine, is one of the best machines that focuses on improving your overall body posture and strength. The rowing machine circular is a pulling exercise that works the back muscles in general, particularly the lateral muscles. It also works the forearm muscles and the upper arm muscles, as the biceps and triceps are dynamic stabilizers for this exercise.
Primary muscles targeted are the upper and mid back muscles, including the lateral and trap muscles. Secondary muscles include the biceps, triceps and forearm muscles.
Main Features
Machine for training back muscles
Circular movement
Magnetic pin to select the load
Weight stack carter in transparent poly carbonate
Illustrative chart
Technical Information
Height adjustable seat
Chest rest support with horizontal adjustment
Independent levers: Unilateral or bilateral exercise
CAM to guarantee natural adaption of the load
Rotating hand grips (Optional)
Muscles Targeted: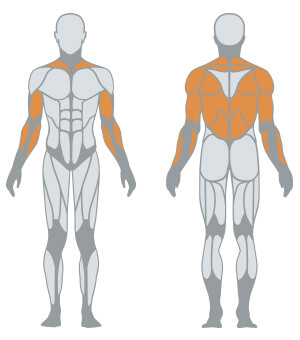 Specifications
Length
135 cm
Width
155 cm
Height
160 cm
Weight Stack
100 kg (120 kg Optional)
Machine Weight
240 kg
---
---
Contact Us Today!
Want to get in touch with the leading gym and fitness equipment wholesaler? Want to have a chat about one of our gym products and fitness equipment? Then please get in touch with us by filling out the contact form below, or call us today!